Okay, es ist hier zwar noch brüllend heiß, aber die Schnittmusterhersteller sind schon im Herbst angekommen .... zugegebener Maßen fand ich die
Herbst-Kollektion von McCalls
eher enttäuschend, so dass ich sie unkommentiert im Raum habe stehen lassen ... aber ... bei den
Herbst-Schnitten von VoguePatterns
sind ein paar wirklich tolle Schnitte dabei. Hier sind meine Favoriten:
Alright, it's still so hot here with temperatures about 35° (95° Fahrenheit), but the new fall patterns are already online .... i have to admit that the
McCalls fall collection
was a bit disappointing such that i left them uncommented ... but ... some of
the new fall patterns from VoguePatterns
are really, really nice. Here are my favourites: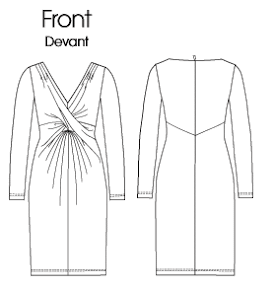 V1191
Ein Michael Kors-Design .... und einer meiner Favoriten, auch wenn es ein wenig an
V1159
erinnert. Es ist einfach sehr feminin und raffiniert!
This dress is a Michael Kors design .. and it's one of my favourites, even though it reminds me a little bit of
V1159
. Nonetheless, it's such a feminine and clever design!
V1202
Ebenfalls ein Designer-Schnitt, nur dieses Mal von Donna Karan. Das Top ist übrigens schon eine Weile in meinem Ordner mit Inspirationen. Da trifft es sich natürlich ausgezeichnet, dass ich jetzt nicht mehr selber einen Schnitt zusammen basteln muss. Allerdings würde ich das Rückenteil abändern. Diese offene Rückenansicht schränkt mir die Tragbarkeit des Tops doch zusehr ein. Aber auch der Rock gefällt mir sehr gut ....
Again a designer pattern, this time from Donna Karan. I have a picture of this top in my inspiration folder for a while now. So i'm quite happy that i don't have to draft it on my own. But i would change the back. This open back view restricts the wearability of this top too much. I also like the skirt ....
V1190
Das Kleid ist wohl eher ein Sommerkleid als für den Herbst geeignet, aber mir gefallen die verspielten Details. Auch das kommt auf meine Liste ....
IMO it's more a summer than a fall dress, but i do like the ruffle details. I've added it to my wishlist, too .....
V1201
Und hier noch ein Design von Donna Karan. Der Schnitt besteht aus Jacke und Hose, wobei mir allerdings nur die Jacke gefällt. Der Schalkragen und die taillierte Schnittfühurung gefallen mir einfach super gut. Das könnte eine schöne Jacke für den Herbst geben ...
And here is another Donna Karan design i really like. It's a pants and jacket pattern, whereas i prefer the jacket pattern. I like the shawl collar and the waisted lines. This could be a nice jacket for fall ....
Fazit:
Eine durchaus gelungene Kollektion. Der Herbst kann kommen .... aber bitte nicht ganz so schnell!
Conclusion:
A really nice collection. Now fall can come ... but not not too fast please!