Soderle, gestern lag sie in meinem Briefkasten, die neue Burda. Mal schauen, was sie so für uns bereit hält:
Zuerst mal wieder die Basteltipps. Nieten, verknotetes Wollknäuel als Kette , ein Gürtel, der vorher besser aussah als hinterher und Knöpfe auf Taschen. Naja, nicht innovativ und auch nicht wirklich neu .... aber nun gut ....
Dann geht's aber schon mit den Schnitten los ...
So yesterday i had the new Burdastyle in my Mail. Let's see what we've got here:
First, some crafty ideas. Studs, a knotted ball of wool as a necklace, a belt that looked better before and buttons on yabag. Nothing new, nothing really creative ... but alright ....
Let's turn to the patterns ....
Absolut Bambi-reif
Ich beneide Leute, die Tanzen zu ihrem Hobby erkoren haben, denn die haben Bedarf an all den tollen Roben .... ich allerdings nicht .... Schade, denn gefallen tun mir die Abendkleider schon ... besonders in diesen tollen Rottönen ....
I envy people who have dancing as their hobby. Why? Because they are in the need of all these beautiful gowns ... i don't ..... sadly .... because i really like them, especially in these beautiful red ....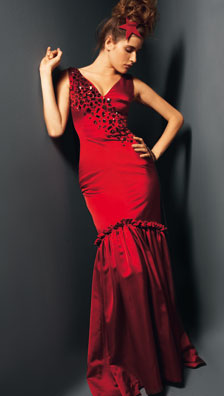 Modell 105 und Modell 107

... sind meine persönlichen Favoriten.


... are my personal favorites

.



Mustergültig
Eine Fotostrecke mit Karo-Stoffen ... hmhhh ... einarmige Kleidchen und Jodhpur-Hosen sind nicht so mein Fall .... aber das Chiffonkleid und die beiden Röcke sind sehr schön.
Next are plaids .... ummhhh .... an one-sleeved dress and Jodhpur pants ... not my cup of tea .. but i like the chiffon dress and the skirts.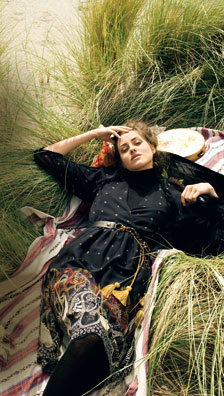 Modell 112

aus Chiffon mit einem schönen Grobstrick-Cardigan und Stiefeln wintertauglich gemacht ... ja, das kann ich mir gut vorstellen.



made from chiffon. I can imagine this with a knit cardigan and boots.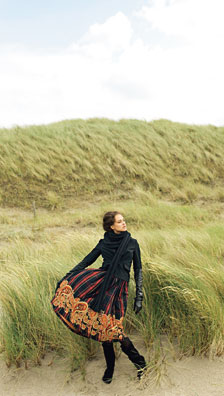 Modell 113 und Modell 116

Die Röcke gefallen mir beide ganz gut (obwohl Modell 116 eine für mich eher unvorteilhafte Länge hat). Allerdings leben die von dem ausgefallenen Stoff. Mal sehen, ob es den bei Alfatex zu erstehen gibt.



I like both of the skirts (but i think the length of model no. 116 wouldn't be very flattering on me). However, the fabric makes the skirts so special. We will see if it is available to buy.
Endless Love
Die Stoffe und auch die Farbtöne finde ich sehr schön ... allerdings ist rein schnitttechnisch nichts für mich dabei ....
I like the fabrics and i also like the colors .... but the patterns don't speak to me ....


Modell 111 und Modell 115

... meine Favoriten aus dieser Fotoreihe ... allerdings werden sie es wohl nicht auf die To-Do-Liste schaffen .....



... my favorites from this theme, but i don't think they will make it on my To-Sew-List ....
Zarte Wäsche
Davor bin ich bis jetzt zurück geschreckt, aber wenn ich mir die Fotos so ansehe ....
I've never sewn lingerie before. Indeed, i'm afraid of. But if i have a look at the pictures i may change my mind .....


Modell 134

Das Set gefällt mir wirklich gut. Mal sehen, ob ich mich daran wagen werde .....



I really love this combo. We will see if i can find the courage to give it a try ....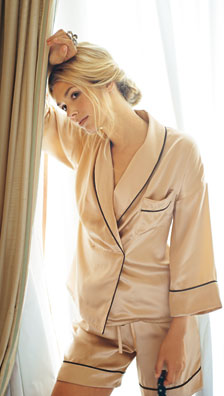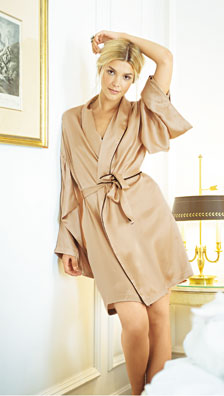 Modell 130+132 und Modell 128

Pyjama und Bademantel gefallen mir ... insbesondere die Paspelierungen .... und auch gerne genau in den Farbtönen ... allerdings würde ich die Hose lang nähen (sonst gibt's Frostbeulen-Alarm) und den Bademantel eventuell auch.



I love the Payamas and the bathrobe ... especially with the piping ... and in this color combination. But i would probably make a long version of the payama pants (otherwise i would freeze the whole winter long) and eventually the bathrobe, too.



Star Style
Ja, das ist eine Hose, und? Sorry, das Modell sagt mir nicht zu .... und an Hand dieser groben Skizze kann ich mir die Hose auch nur schwer vorstellen ....
Alright, it's a pants. Nothing spectacular .... and sorry .... just seeing the sketch of it, i can't imgine how the sewn garment will look like ....
Aus 1 mach 4
Jaa, Hosen brauche ich dringend ..... allerdings waren nahezu alle meine vorangegangenen Versuche Flops ....
I really DO need pants .... but nearly all my past approaches to sew pants turned into wadders ....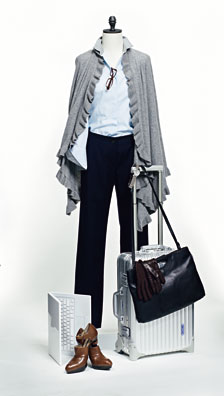 Modell 124

... gefällt mir am Besten. Ich würde es allerdings ohne das seltsame Cape, dafür aber mit einem hellgrauen Cozy kombinieren. Die Rüschen von dem Cape finde ich wiederum ganz gut. Könnte man sich für den Cozy merken .....



.... is my personal favorite. I wouldn't wear it with this weird cape, but with a gray cozy instead. The ruffles of the cape indeed are cute. Maybe this will look nice on the cozy .....



Kuschelzeit
Ah ja, es geistert ja schon seit einiger Zeit das Gerücht umher, dass Stricken wieder im Trend liegt .... Kann mir ja nur Recht sein. Aber bitte liebe Burda-Redaktion, was bitte ist das?
Ist das ernst gemeint? Gut, es ist kalt in Deutschland, aber die Gefahr, dass die Wanduhr frieren könnte, tendiert doch wohl gegen NULL ... ganz abgesehen davon, dass ich jede Wohnung fluchtartig verlassen würde, wo ich so etwas an der Wand entdecken würde :-)
I heard this rumor before ... knitting is social accepted again .... something i like to hear. But dear Burda what the heck is this? Is this serious? Alright it's cold in Germany, but the risk that a wall clock is freezing tends against ZERO ... apart from that, i would flee from every room where i would discover something like that :-)
Fazit:

Mal schauen, was langfristig für mich so dabei ist. Die Abendkleider und die Wäsche sind für mich persönlich das Highlight dieser Ausgabe - dumm nur, dass ich ersteres nicht wirklich brauchen kann und letzteres noch nie gewagt habe zu nähen.
Eigentlich habe ich ja auf einen schönen Schnitt für einen Wintermantel gehofft, aber vielleicht in der nächsten Ausgabe .....
Conclusion:

We will see what i like in the long term. My personal highlight of this issue are the gowns and the lingerie - unfortunately, first i don't need and second i haven't sewn yet.

Actually i was hoping for a pattern for a nice winter coat, but maybe next time ...