... und Raider heißt jetzt Twix ;-) Nun ja, der Name hat sich geändert .... und sonst?! Hmmmhhh .... ein paar Schnitte sind ganz nett .... aber nicht wirklich überwältigend ....
Burda World of Fashion is now Burdastyle .... and a rose is a rose is a rose ..... So what has changed except the name?! Hmmm ... there are a some nice patterns in this issue ....


BWOF 08-2009-102
Eine schöne und klassisch-geschnittene Caban-Jacke.
Dumm nur, dass ich mir so eine schon genäht habe ...
okay okay ... (immer noch) dabei bin zu nähen ...



A nice and classical Caban jacket.




But i've already made one ... alright, i correct myself ...


i'm still working on a Caban jacket like that .....
So no need for another one ....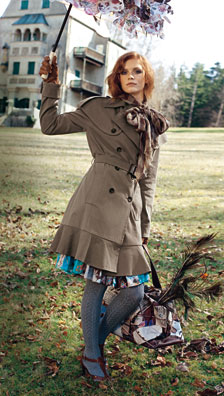 BWOF 08-2009-101
Ja, mal was anderes ... ganz schöne Details ....
allerdings nicht so schmeichelnd bei meinem Schwimmer-Kreuz ....



A nice trench variation .... like the details ...




but i think it wouldn't be very flattering to my broad shoulders ....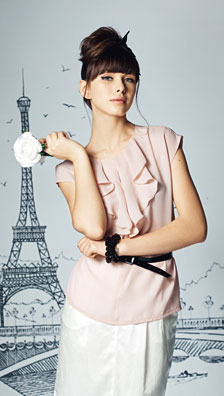 BWOF 08-2009-117
Schönes Top. Ich mag die Rüschen, allerdings ist es für meinen Geschmack ...
naja ... eben zu rüschig, zu niedlich. Bei meiner Größe muss ich mit
dem Prädikat "süß" vorsichtig umgehen .....



Cute top. I love the ruffles .... but ...




maybe it's too nice and cute for me.




I need to take care of looking too cute and




nice and girly because im so small ....






BWOF 08-2009-112
Dieses Cape finde ich ja trés chic ...
allerdings weiß ich nicht, ob es so zu mir passt.
Hmmmhh .... noch ist ja offiziell zumindest Sommer ...
also noch genug Zeit, das Ganze auf sich wirken zu lassen ....



That's something i really like ...




don't know if this fits to my style ....




hmmh... it's still summer time




so still some time left to think about it ....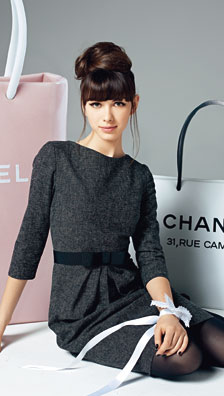 BWOF 08-2009-128
Sehr schönes Kleid. Dumm nur, dass ich so selten
Kleider anziehe. Und für's Büro einfach overdressed....



Beautiful dress. But i don't wear dresses very often.




And i would be totally overdressed at work ....



In dieser Burda ... oops, richtig ... BurdaStyle ... ist nicht so wirklich viel für mich dabei. Allerdings muss ich gestehen, dass ich die neue Optik der Fotos schon sehr ansprechend finde. Und auch wenn die Schnitte dieses Mal nicht so meinen Geschmack treffen, finde ich es doch besser, außergewöhnliche Schnitte in einem Heft zu haben, als den hunderttausendsten Bleistiftrock oder die ewig gleichen Tunika-Variationen. Also, mal abwarten, wie sich das "neue" Heft so entwickelt!
The new BWOF .... ooops .... Burdastyle ... is nice but not really more then that. I like the new look of the magazine. And even though i'm not in love with the patterns in this issue i like that they are putting more "special" and "different" looking patterns in the magazine. I don't need hundreds of hundreds pencil skirt patterns or slight variations of tunics. So let's see how the "new" magazine is developing!