Die ersten Tagen meines Nähurlaubs sind rum .... und ich habe nicht viel getan außer lesen, fernsehen und vieeel schlafen. Irgendwie war ich einfach nur müde und antriebslos und wollte mich auch nicht zum Nähen zwingen. Da traf es sich ja ganz gut, dass die Januar-Burda eingetrudelt ist und ich sie in aller Seelenruhe auf der Couch durchblättern konnte. Dann wollen wir doch mal sehen ....
The first days of my sewcation are gone ...... and i didn't do much except reading, watching TV and a lot of sleeping. I didn't felt like sewing and didn't want to force myself to. But the January-Burda arrived. So let's see what we've got ......
Verführung pur
... im Stile der 40er Jahre verspricht uns die erste Modestrecke. Ich mag die Inszenierung der Bilder .....
The first topic is fashion inspired by the 40ies. I love the setting and mood of the pictures .....

Rock 114



Mantel 101


.... aber rein Schnittmuster-technisch sind die Modelle oben einfach nichts für mich. An dem ranken und schlanken Model sehen die Teile ja schön aus, bei meiner Körpergröße dürfte das Ganze aber auch schon wieder ganz anders aussehen.
... but regarding the patterns there is not much in for me. The clothes look nice and beautiful on the slim and tall model, but i dont think they would look good on me with my body size as well.

Kleid 103
Ein Schnitt ist jedoch auch für mich dabei: Kleid 103. Ich finde es sehr schön, besonders die Flügelärmelchen und die Schulterpasse .... so schön feminin und verspielt.
But there is one pattern i actually do like: It's dress 103. I like the sleeves and the shoulder yokes ... it's really feminine and flirty.
Ich bleib daheim
.... ist das Motto des nächsten Themas (und könnte auch das Leitmotiv von meinem Weihnachtsurlaub sein ;-) ).
The title of the next topic is "stay at home". This could actually also be the motto of my sewcation ;-)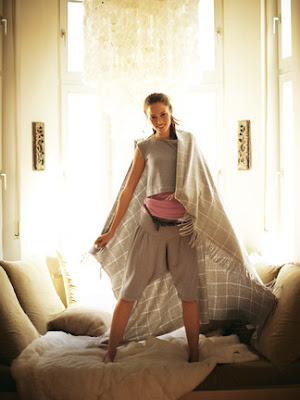 Hose 124B und Top 120B



Wie dem auch sei, diese Kombi ist fürchterlich. Diesem ganzen Trend mit diesen Harems-/Jodphur- bzw. Sarouel-Hosen (oder wie immer diese Dinger mit tief sitzendem Schritt und Windel-Popo heißen mögen) kann ich einfach nichts abgewinnen - auch nicht für zu Hause auf der Couch. Und dieses Rocky-Balboa-Top macht es auch nicht gerade besser ....

Nonetheless, i think this combo is horrible. I really don't understand this Jodphur/Sarouel trend (or whatever these pants with a low crotch and diaper back are called) - not even for an evening on the couch at home. And this Rocky-Balboa-Top makes it even worse ......




Top 129A



Eigentlich mag ich diese Ausschnittform sehr. Was mir an diesem Schnittmuster jedoch nicht so gut gefällt, ist die "Kragenlösung" und die Falten die sich dadurch auch vorne bilden. Nun gut, das ist wahrscheinlich Geschmackssache und ließe sich mit nur wenigen Änderungen am Schnittmuster beheben.

I like this kind of neckline. But what i dislike is the "collar" and the wrinkles it causes at the upper front pieces. However, this is probably a matter of taste and can be eliminated with small changes an the pattern.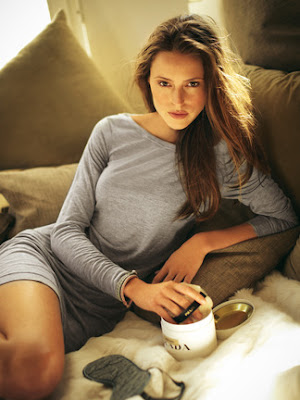 Longshirt 123B
Okay, noch ein "Basic". Dieses hier ist allerdings so basic, dass ich mich allen Ernstes frage, ob ich tatsächlich ein Schnittmuster dafür brauche ....
Alright, there is another basic. But actually it's so basic that i really don't understand why i need a pattern for it .....
Auf Spurensuche
Widmen wir uns also dem nächsten Thema ....
So let's skip to the next topic .....

Mantel 126A



Der Mantel sieht so schön kuschelig und gemütlich aus. Allerdings habe ich eine Art Déjà-vu. Kommt mir irgendwie bekannt vor .... mir fallen da spontan

Burda 12-2009-119

und Burda

10-2010-107

ein. Zugegebenermaßen sind die Schnitte nicht identisch, aber doch sehr ähnlich vom Stil her.

This coat looks cozy and comfortable. But i have i slight feeling of a Déjà-vu. Somehow i've got the feeling that i know this pattern already ... ahhh,

Burda 12-2009-119

and

Burda 10-2010-107

are popping up in my mind. Admittedly, the pattern are not identical, but they are the same style.




Top 122



Der Pulli gefällt mir. Wenn man sich allerdings die technische Zeichnung anschaut, sieht man, dass er nichts anderes als ein einfaches Shirt mit angesetztem Schal ist. Stellt sich mir also wieder die Frage, ob ich für so etwas unbedingt ein Schnittmuster benötige .....

I also like this top. But if you have a closer look at the technical drawing you will see that's just a simple top with an attached scarf. Again my question, if i really need a pattern for this .....
Die Farbe Blau
Neee, hier ist so überhaupt gar nichts für mich dabei .....
Nothing here that i like .........
Plusmode
*Seufz* Und schon wieder sind die schönsten Modelle in der Plusmode .....
*Sigh* Again the best patterns are in the Plus size section .....

Kleid 133



Top 132
Fazit:
Hmmmhhh .... das ist so eine Ausgabe mit vielen, vielen Basics. Nur blöd, dass ich nach über einem Jahr Burda-Abo mehr als genug Basic-Schnitte habe und mich sowas einfach nicht vom Hocker haut ......
Conclusion:
Ummmhhh .... this is an issue with a lot of basics. The problem for me is, that after more as a year of Burda-subscription i have more than enough basic pattern and want something more elaborated .......